Are you looking for a rugged Tablet PC for harsh industrial use?
Modern equipment for fire department, forestry, agriculture or field service etc.
Octa-core Qualcomm® MSM8953 CPU, 1000 cd/m², MIL-STD-810G, IP68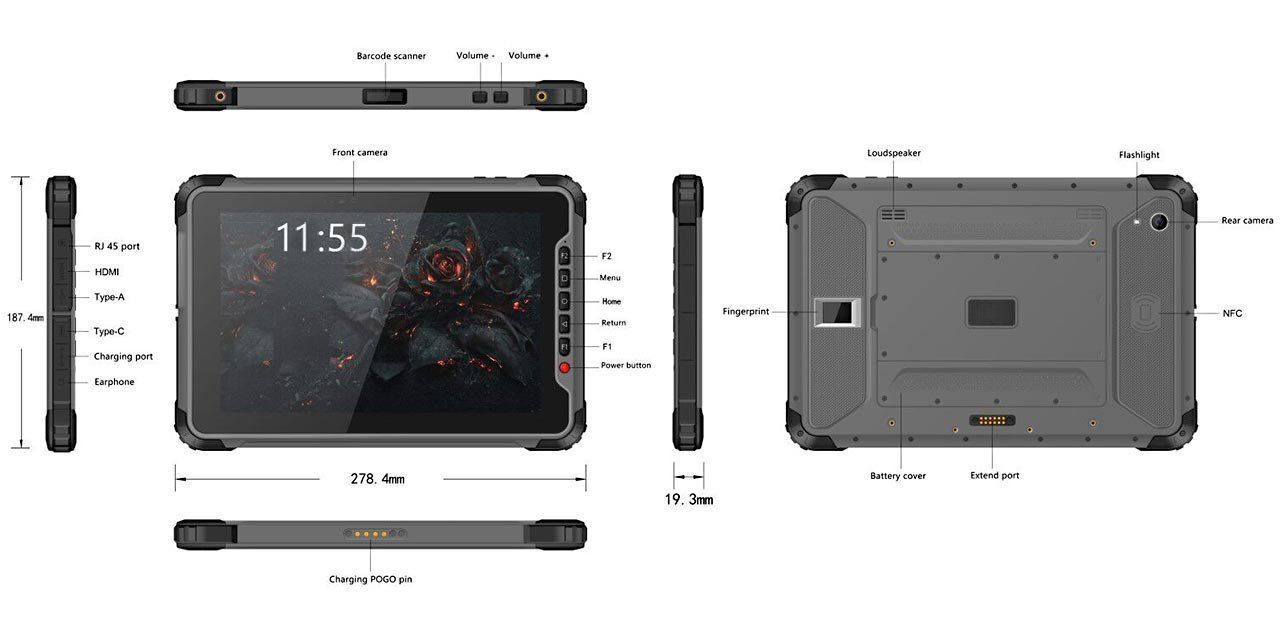 strong in communication, waterproof, shockproof, sunlight-readable
This industrial Tablet PC is ideally suited for harsh industrial use thanks to its ruggedness, long battery life and Hot Swap functionality (battery replacement during operation), Gorilla Glass, IP68 dust/water resistance, Schock-, MIL-STD-810G shock, vibration and drop resistance.
The octa core low power Qualcomm® Snapdragon™ 625 MSM8953 ARM® Cortex™ A53 CPU ensures energy efficiency and high processing power.
This 10-inch Tablet PC impresses with a wide range of interfaces and numerous features: hot-swappable batteries during operation enable uninterrupted battery life, location-accurate GPS: GPS, BDS, Glonass, Ublox M8N, with 2,5 m accuracy, sunlight-readable display with the brightness of up to 1000 cd/m² (nit), back and front cameras, RJ45 LAN etc.
Wireless connectivity is provided by 4G LTE with Dual SIM, Dual Band WiFi, Bluetooth 4.2.
The extended temperature range of -20℃ to +55℃ allows mobile industrial and outdoor use.
The Tablet offers a wide range of optional carrying and mounting options: Hand strap, wrist strap, carrying strap, vehicle mounting set; as well as docking/charging station with simultaneous charging of the tablet and a spare battery.
The Tablet PC is completed by optionally available

Laser barcode scanners (1D und 2D)


NFC (HF RFID)

LF RFID, UHF RFID interfaces

Fingerprint sensors.
The application areas of these robust industrial tablets are e.g.:
Industry, Logistic, Aviation, Maritime, Ex­plo­ra­ti­on, Forestry, Automotive, Police, Fish husbandry, Agriculture, Service/Field work, Rescue service, Finance, Catering trade, Healthcare, Mobile Data Capturing, Community facilities: Fire service, Wastewater, Environment etc.
Now it's your turn: get informed and equip your field staff with robust technology:

Tablet PC for harsh industrial use
Consult experts: Tel. +4940-7003550

Request a quote: Info@1st-embedded.com

We look forward to hearing from you!